contact:  italywithmichael2@gmail.com
JOAN, NY, NY: "I LOVE the videos! I can watch them over a couple of times. You have an absolutely great voice for narrating. I'm serious, I'm really impressed. Please make some more and keep sending them to me. I love your sense of adventure and quest to seek out new places and things throughout the world. Great work!
Oh yes, I am now awaiting the tango version, where you're gonna go and interview the milongueros in BsAs ;))
I am really smiling and totally enjoying your work
Joan
"Bellissimo!" (Beautiful). Tony A., Napoli, Italy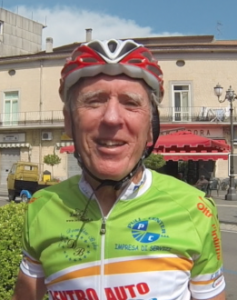 'Italy with Michael' is a free health and fitness web TV show that entertains you  with fun with fitness.  It's a simple concept: fun makes inspiration for perspiration.
Hosted by health and fitness advocate, me, Michael Holcomb, I pass on tips and ideas for finding activities for you to be happy and health, doing fun events like tango and cycling and climbing, while traveling or at home, taking life one day at a time.   I sell a line of fitness supplements from Body Health. Besides health and fitness tips, I plan to provide video production ideas one of these days.
Seeing fun and humor in every situation, I emphasize on Fun, not Pain.  "No pain, no gain" has been replaced with, "No fun, no way!"
Michael's extensive health and fitness background includes 7 years with the National Ski Patrol, ski instructing for Professional Ski Instructors of America at Telluride Mountain Resort, conducting paddling/rolling classes for Mad city Paddlers, and assisting with cycling classes for juniors. He also is on a lifelong quest to learn more about diet and nutrition and the health benefits of exercise and share his journey with you!
Michael's on a mission to share the gift of Fun with Fitness with everyone.
FAQ (Frequently Asked Questions)
Yes, he is available for speaking engagements at your seminar, workshop, conference, university  or event.  Send an email to Italywithmichael2@gmail.com with SPEAKING in the subject line, and we'll make the arrangements.
Actually, his background is not in film or video production.   His education is Bachelor of English, and Associates of Arts, Computer Programming, Mainframe.  His professional career includes teaching for the English Dept at the Univ. of Wisconsin, extensive experience as a mainframe programmer for corporations and institutions, and–using savings and college summers construction experience–running a property construction and management business that he built up over the years.
Yes, the show is different from other health and fitness shows.  Michael does not currently work out in a gym, although he approves of going to a gym for workouts, of course.  But his "fun with fitness" approach focuses on having fun with activities that build your fitness as well as your health.
Yes, he is available for speaking engagements at your seminar, workshop, conference, university, or event.
———————————————————————
Customer Support Questions?
Contact us anytime:    Italywithmichael2@gmailcom
Please expect a reply within 24 to 48 hours.
US mailing address;
Michael Holcomb
PO Box 260
Southampton, NY 11969
USA
Refund Policy:
Refunds for ebooks or products purchased from us will be cheerfully granted in the following situations:
– If the item has a fault about which you were not aware of at the time of purchase.
– If the item is NOT of merchantable quality – a basic level and quality and performance that would be reasonable to expect.
– If the item does not do the job you were led to believe they would do.
– If the item doesn't match the description given when you ordered.